Development of the Czech economy and real estate market in comparison with the EU
12.2.2022
The agencies Prosperity Index, Europe in Data and Česká spořitelna Bank participated in a joint study of the level of economic development of European countries.
     The economies were evaluated according to 10 criteria:
Economic complexity,

GDP per inhabitant,

ratio of GDP to gross national income,

inflation,

gross value added to total output,

investment to GDP ratio,

number of robots per 10 000 workers,

value added of exports,

foreign direct investment,
public debt to GDP. 
     The study showed that the most economically advanced countries in the European Union are Sweden, Germany and Denmark. The Czech Republic ranked ninth, just behind Belgium. It is worth noting that among the former Eastern bloc countries, the Czech Republic is the most economically advanced country in Europe. According to analysts, the Czech Republic's strengths are its strong diversification of economic sectors, which makes it easier to survive market shocks, and its resilience to crises. As for the least economically developed countries in the European Union, the study found that Cyprus, Poland and Greece are the most developed.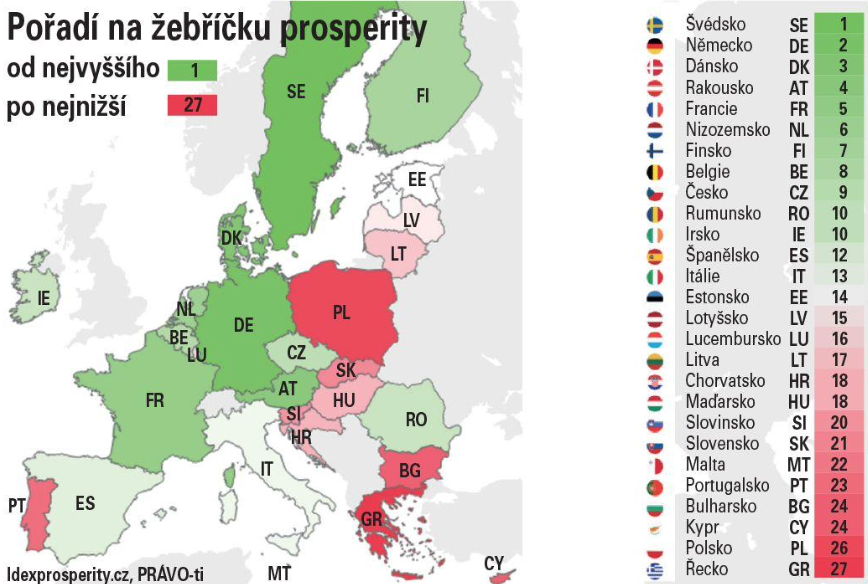 In terms of property market development, the last 10 years have brought a number of changes. Average prices for residential property in the EU have risen by 39% and rents by almost 18%. In the Czech Republic, over the same period, prices for apartments and houses have risen by almost 100% and rents by around 30%. The Czech Republic is ranked sixth among all EU countries in terms of property price growth, which is certainly pleasing news for investors. In most European countries, rents have risen more slowly than residential property prices. Property prices rose in all Member States except Greece, Cyprus and Italy.