Record sales and record prices of Prague flats
7.1.2022
The Prague real estate market experienced many records during 2021. Developers recorded a record volume of sales and at the same time the highest volume of mortgages in history was issued. In 2021, 7,450 flats were sold in Prague, 28% more than in 2020. The total amount of all sales was 57 billion Czech crowns.
     The average price of one square metre of a new apartment in Prague reached 137,946 Czech corwns in 2021. This is a 27.9% year-on-year increase compared to 2020. The main driver of the rise in demand was private and institutional investors. The share of institutional investors has recently been increasing in the Prague market. 
     As of today, there are around 2,850 vacant apartments available on the Prague market, which represents a volume similar to the sales volume in one quarter in 2021.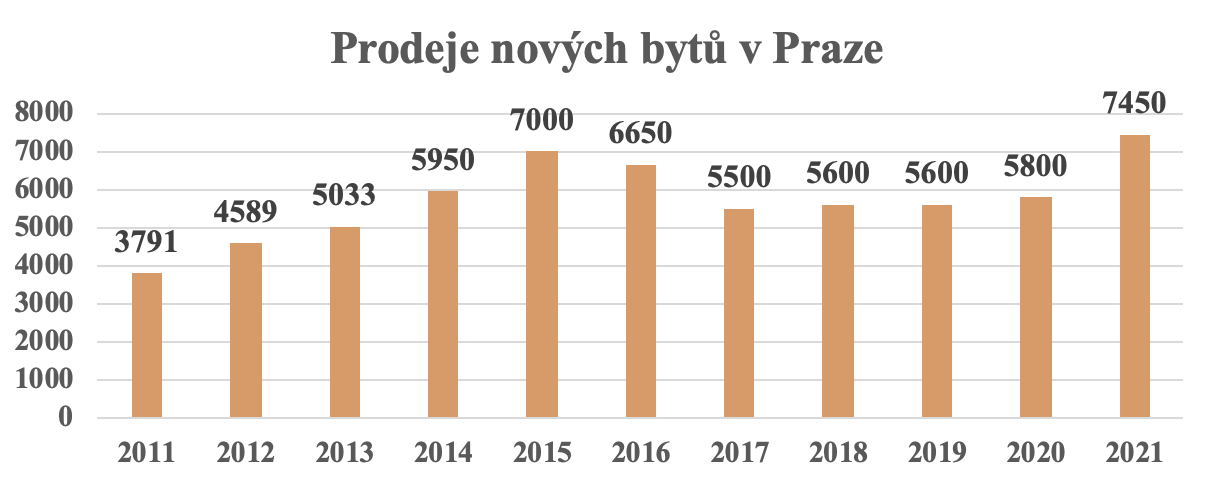 The slow approval process is significantly affected by the lack of available apartments and high prices due to the lack of supply compared to demand. In some cases, the approval process for condominium development can take more than 10 years. According to analysts from Trigema, Central Group and Skanska Reality, there are currently over 130,000 apartments in Prague in various stages of preparation, with a total value of over 1.2 trillion Czech crowns. 
     Nevertheless, Prague remains very attractive in terms of buying real estate. According to the director of the development firm Central Group, construction of just over 7,000 apartments was permitted in the capital last year, which is slightly less than what was sold. In other European cities, such as Warsaw, Wroclaw and Krakow, more apartments are allowed to be built and sold annually, even though these cities are not more attractive than Prague.