The Average Czech Earns More than 12 years to Buy a New Apartment
18.7.2021
The consulting company Deloitte has analysed and compared the affordability of housing in 22 European countries. The calculation was based on the ratio of the average wage in each country to the average price of a new 70 square metre apartment.
     According to the research, the least affordable housing is in Serbia, where locals will have to save for 15.2 years to buy an apartment. The most affordable housing is in Ireland - 3.1 years. The Czech Republic took second place in the ranking. The average Czech will have to save for a new apartment for 12.2 years. A year ago it was 11.4 years. Despite the rise in average wages, the value of real estate in the Czech Republic grew faster. In the Czech Republic, average property prices rose by 8.5%. Austria and Israel ranked third and fourth in affordability with 10.6 and 9.2 years respectively. 
     Overall, the average property price in the Czech Republic is still lower than in many Western European countries such as France, the Netherlands and Austria. For example, the average price of a new apartment in neighbouring Austria is 114 320 Czech crowns per square metre. If we judge this solely by cities, then the most expensive properties are found in Paris, where the average cost per square metre is 331 320 Czech crowns. For comparison, according to Deloitte, the average cost per square metre in Prague is 92 690 Czech crowns, in Brno 73 260 Czech crowns and in Ostrava 45 580 Czech crowns. It is also worth noting that despite the crisis and the pandemic, property values have increased in all European capitals except Rome, which met a 3.1% decline. 
     If we consider the average rental price per square metre, then the highest value is also in Paris 735 Czech crowns per square metre per month, followed by London 670 Czech crowns and Oslo 635 Czech crowns per square metre. For comparison, in Prague the average rent per square meter is around 295 Czech crowns per month.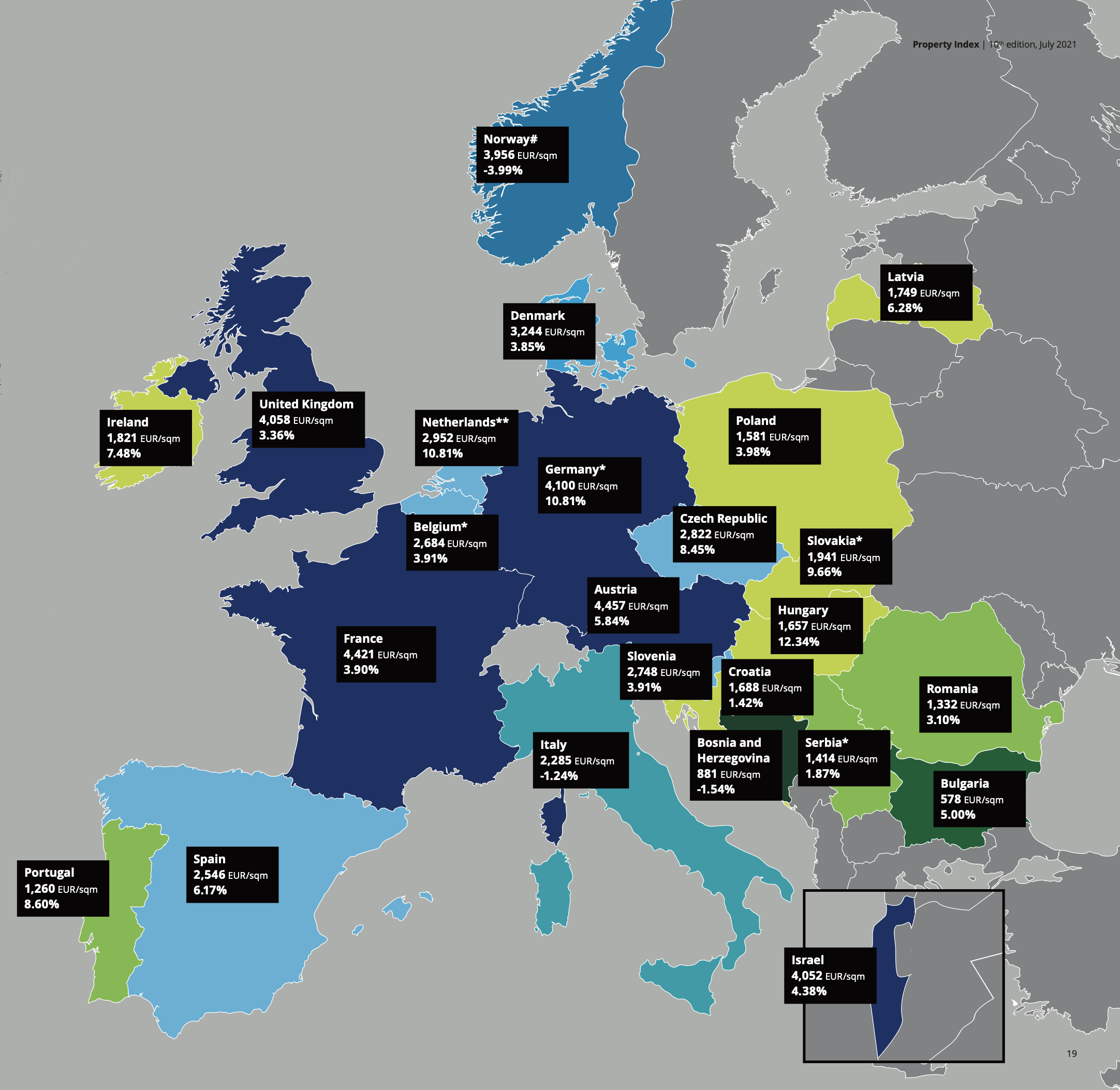 Источник: https://www2.deloitte.com/content/dam/Deloitte/cz/Documents/real-estate/Property_index_2021.pdf